Basic Rock Climbing Course kothrud
Dear All, We are happy to announce that GGIM is launching Basic Rock Climbing Course for all the outdoor enthusiast who are above 16 years of age.
It is
a 4 days
residential course during which you will acquire all the basic skills, techniques and knowledge related to Rock Climbing.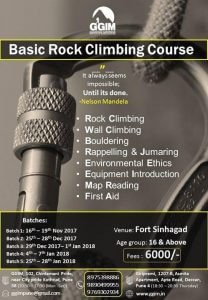 It will be conducted in FIVE batches:
Batch 2: 25th – 28th Dec 2017
Batch 3: 29th Dec 2017 – 1st Jan 2018
Batch 4: 4th -7th Jan 2018
Batch 5: 25th – 28th Jan 2018

ALL the batches have limited seats.
So register at earliest. Please find the brochure attached along with the mail.
Login to View Organizer Details
Guardian Giripremi Institute Of Mountaineering Office No.102, Chintamani Pride, Near City Pride Kothrud, Pune India 411038