श्रीमंत बाजीराव बल्लाळ बाळाजी भट(Baji Rao Ballal Balaji Bhat) (August 18, 1700 – April 28, 1740), also known as Baji Rao I, was a noted general who served as Peshwa(Prime Minister) to the fourth Maratha Chhatrapati (Emperor) Chhatrapati shahu Raje Bhonsle from 1720 until Baji Rao's death. He is also known as Thorale(Marathi for Elder) Baji Rao. He was also popular with the nickname 'Rau' (in Marathi 'राऊ').
Baji Rao I was the son of Balaji Vishwanath, first Peshwa of Chhattrapati Shahu. The Bhat family of Bajirao belonged to the Chitpavan Brahmin community and held the Deshmukhi rights in an area in Konkan. At the age of 20, he was appointed by Shahu as Peshwa upon the death of his father, keeping aside all other claimants. It is quite clear from this appointment that Shahu recognized his talent even as a boy and positioned him as Peshwa. Bajirao was popular with his soldiers and even today his name is an honorable one.
Baji Rao I, who fought over 41 major battles and many others, is reputed never to have lost a battle.
He was one of the first to understand and exploit the weaknesses of the fragmenting  Mughal Empire, following the footsteps of his father. The declining influence of the Syed Brothers at the Imperial court was another factor influencing his decision to attack.
He moved the administrative capital of the Maratha Empire from Satara to the city of Pune in 1728. His general, Bapuji Shripat, persuaded some of the richer families of Satara to settle in the Pune city, which was divided into 18 Peths (boroughs).
In 1732, after the death of Maharaja Chhatrasal, a long-time ally of the Maratha Empire, Baji Rao was granted one-third of Chhatrasal's kingdom in Bundelkhand.
An outstanding cavalry leader, Baji Rao was loved by his troops and his people. He fought for the protection of Hindu Dharma, and freed central and western India from Mughals. Under his command, Marathas defeated the Siddis(Moghul admirals), Portuguese, and Nizam, Bangash and other generals.
Baji Rao I was married to Kashibai, and had two sons together: Nanasaheb was later appointed Peshwa by Shahu in 1740. Their second son was named Raghunathrao.
Baji Rao I also took Mastani as a wife. She was the daughter of Maharaja Chhatrasal of Panna by a Muslim wife.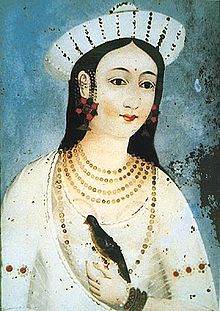 Baji Rao died on April 28, 1740, while still in his prime. He died of a sudden fever, possibly heat stroke, while inspecting his jagirs. He was en route to Delhi with one lakh (100,000) troops under his command at his camp in the district of Khargon, near the city of Indore.
&nbsp,
&nbsp,
&nbsp,