Mastani was the wife of Peshwa BajiRao I(1699–1740), an Indian general and prime minister to the fourth Maratha Chhatrapati (Emperor) Shahuji.
&ampnbsp,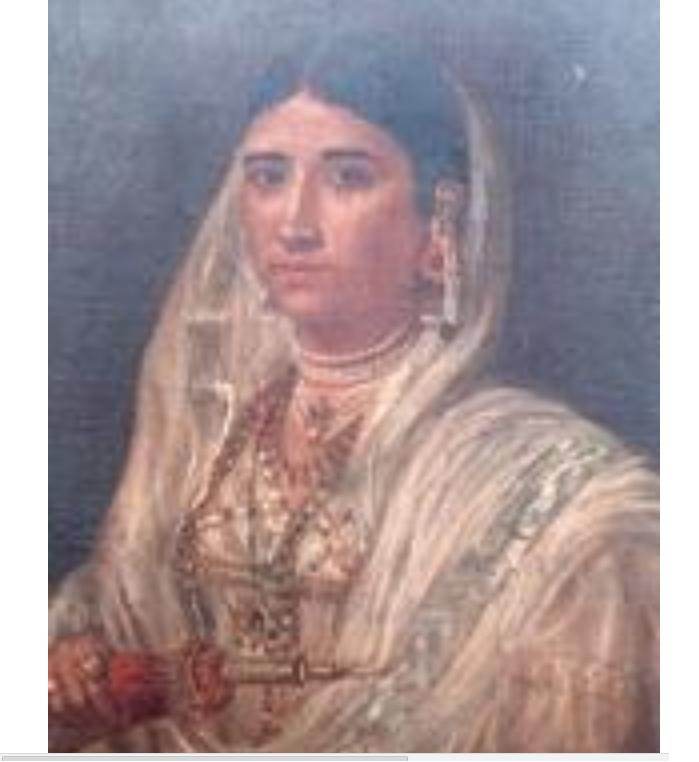 &ampnbsp,
Real Photograph of Mastani
Mastani was the daughter of a Hindu, Maharaja Chhatrasal(1649–1731), of Bundelkhand province and was borne by his Persian-Muslim wife Ruhaani Bai who was a court dancer of the Nizam of Hyderabad. When a Mughal chief from Allahabad, Mohammad Khan Bangash, invaded Chhattrasal's kingdom during 1727-28 and imprisoned him and his family, Chhattrasal sent a secret message, seeking help, to Bajirao, who happened to be on a military campaign in the vicinity of Bundelkhand. Bajirao came to the rescue of Chhatrasal, defeated Bangash's army, and restored Chhatrasal to his throne. In gratitude, Chattrasal gave Bajirao his daughter Mastani, and a third of his kingdom, including Jhansi, Sagarand Kalpi. He gave 33 lakh Gold coins to Bajirao. He also gifted a Diamond mine to Bajirao in marriage to Mastani.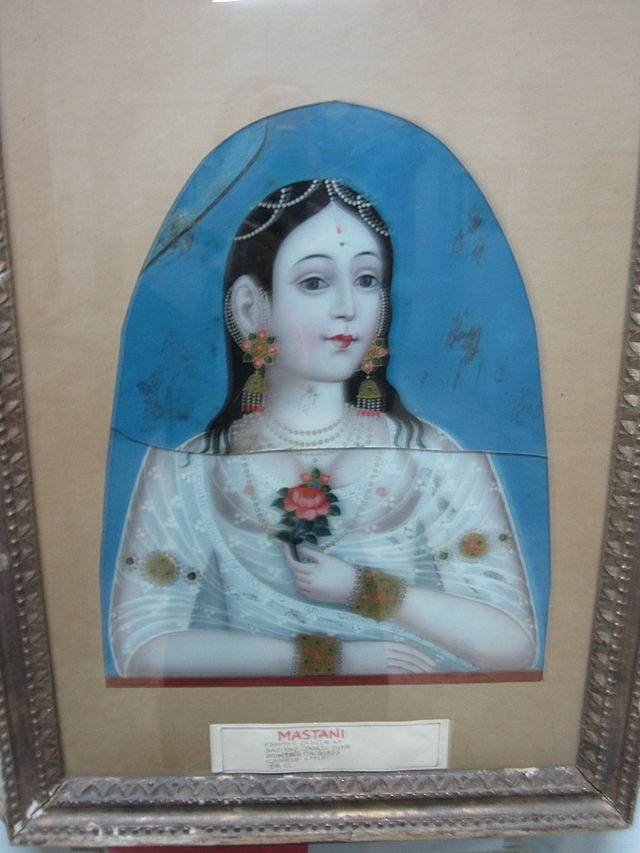 However sources vary on this context. According to the second view of Chhatrasal, she was the daughter of Nizam of Hyderabad. The Nizam, defeated by Chhatrasal in 1698, was advised by his wife to marry his daughter to Chhatrasal to foster friendly relations with the Bundelas who had become the most dominant power in Central India and in the Indian Subcontinent.
According to the third origin story, Mastani was a dancer in Chhatrasal's Court and after Bajirao Peshwa accepted the friendship during the meeting with Chhatrasal, Bajirao fell in love with Mastani and married her which was condemned by Brahmins and other Hindus as Bajirao was an upper caste Brahmin.
Mastani was skilled in horse-riding, spear-throwing and swordsmanship and a talented dancer and singer. She accompanied Bajirao on his military campaigns. Mastani and Bajirao's wife, Kashibai, bore sons to Bajirao within a few months of each other. Kashibai's child died at an early age. Mastani's child was named Shamsher Bahadur.
Bajirao's love for his half-Muslim wife Mastani, and neglect of Kashibai angered his mother, Radhabai. In deference to Radhabai, Bajirao's brother, Chimnaji Appa, tried to send Mastani into exile. Bajirao's son, Balaji, also tried to coerce Mastani into leaving his father, but she refused. Enraged by her growing influence on Bajirao, and Bajirao's neglect of Kashibai, Balaji had Mastani placed under house arrest for a time, while Bajirao was on military campaign.
In April 1740, while Bajirao was inspecting his lands at Khargon, he suddenly became ill and died. Kashibai, Chimnaji Appa, Balaji (Nanasaheb), and Mastani came to Khargon. Bajirao's mortal remains were consigned to flames on 28 April 1740, at Raver Khed on the banks of the Narmada River. Mastani died at Pabal Village near Pune, soon afterwards.
According to popular folklore, Mastani committed suicide after hearing about Bajirao's death, by drinking poison from a ring which she was wearing. Others say that she jumped into the funeral pyre of her husband and committed sati. No documentation is available to confirm the actual cause. However it is accepted that she did not live long after Bajirao's demise and died in 1740.
Her grave is in Pabal. It is called Mastani's Samadhi and is maintained by Mr. Inamdar.
&ampnbsp,
&ampnbsp,