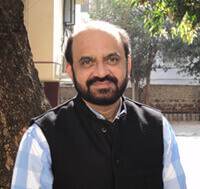 Dr. Vidyadhar Bapat
Psychotherapist & Counselor (U.K.)
Doctor of Medicine, MD (A.M.)
Cognitive Behavioral Therapist (U.K.)
Stress and Anxiety Therapies (Ph.D.)
Child Psychologist (U.K.)
Masters in Psychotherapy & Counselling (M.P.C)
Homeopath (Dip. H.U.K.)
Professional Relaxation Therapist (U.K.)
Clinical Hypnotherapist (USA)
Doctor of Naturopathy
Qualified from renowned Institutes from UK, USA and India, Dr. Vidyadhar Bapat is dedicated to providing personalized, nourishing treatment and therapies for those people seeking enhanced well being and improved quality of life. He uses combination of modern as well as ancient Eastern and Western therapies.
He is affiliate of world renowned Organization, British Psychological Society U.K..
Has been felicitated by International Awards like prestigious Trans Asian Chamber of Commerce Award and Best Doctor, Psychotherapist, India Award by NBC.
Has been part of enriching workshops regarding CBT, Children and Adolescent development and various Disorders at Birmingham, London and Oxford.
Works in collaboration with eminent Physicians and Psychiatrists.
Sessions are designed to bring patients the best in proven therapies, including modern, traditional and complementary/alternative treatments. He particularly adepts at assisting patients challenged by acute stress, anxiety neurosis and mental disorders and other medical conditions, as attempt to reduce symptoms, enhance the ability to control pain and anxiety, and improve quality of life. Besides, He has discovered unique vision and expertise in Life coaching and Personality Development.