Source-Indian Express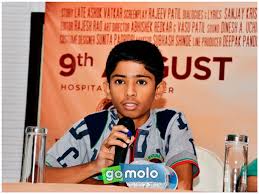 Sometime in April last year,Chinmay Sant,a city student,received a phone call for an audition of a Marathi film. When he went to attend it,he faced competition from nearly 40 children from across the state. But Chinmay was selected. Soon he came to know that he would be playing the lead role in a film directed by National Award winning filmmaker Rajeev Patil. He was thrilled.
But,for him,the best part was yet to come. When the shooting began,he came to know that the film is being produced by Bollywood actor Akshay Kumar and Ashvini Yardi's production company Grazing Goat Pictures. What's more he even got to see the cinestar in person.
"I consider myself lucky to have seen him in person,when he visited the set during the shoot," says Chinmay. The film,72 Miles — Ek Pravas,which was shot near Satara in May and June and will be released on August 9,was recently screened at the prestigious London Indian Film Festival (LIFF) 2013.
The sixteen-year-old Pune boy recently passed his Class X exams from MIT School,Kothrud,and is now busy with his college admission.
In fact,Chinmay isn't new to the world of glitz and glamour. He has done a few small roles in films like Taranche Bhet,Jana Gana Mana and Touring Talkies. "In school,I used to regularly take part in plays. I did my first play when I was in Class II," he says,enthusiastically. Chinmay lives with his mother and elder sister in Kothrud. His father passed away last year in October. "My mother is a homemaker and my sister is working," he says,adding that he plans to take up Arts in college so that he can pursue theatre.
"72 Miles — Ek Pravas is based on a novel written by Ashok Vhatkar. Set in the 50s and 60s,the novel is about the journey of a 13-year-old boy Ashok (played by Chinmay) who runs away from his hostel. The film portrays how the boy matures with time and meets a woman and her kids.
"Before the shoot began,I had read the novel twice or thrice,particularly the part about the main character Ashok. The experience during the shoot was completely different. When we read,we don't get attached to the characters,but when you play a role in a film,you start to relate to the character," says Chinmay.
Asked to narrate a memorable experience during the shooting of the film,Chinmay speaks of the time when his character had to jump into a well to save another boy. "I jumped into the well but since I am not a very good swimmer,I started to drown. Of course,the camera crew rescued me,but I got really scared," he recalled.
Impressed with the level of professionalism displayed by Chinmay,Rajeev Patil said,"His homework on the character was well done and he understood what was expected of him,and delivered it confidently."
Patil has directed Marathi films like Jogwa (2009),Pangira (2010),Sanai Chaughade (2008) and Blind Game (2007) among others.
– See more at: http://indianexpress.com/article/cities/pune/kothrud-boy-shines-in-akshay-kumars-maiden-marathi-venture/#sthash.db9A9UJi.dpuf